Banditos Go the Distance in OKC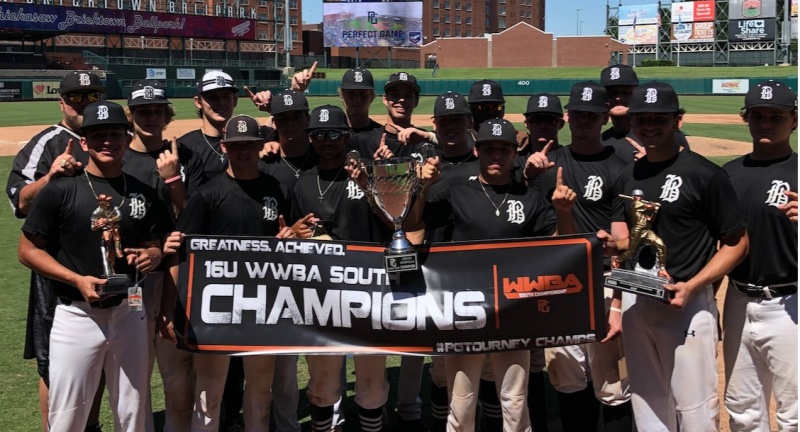 Photo: Banditos Scout Team 16u (Perfect Game)
The Banditos Scout Team 16U ran roughshod over the entire field at this year's Perfect Game 2020 WWBA 16U South Championships held in Oklahoma City. The Banditos pitching staff did not give up a run in pool play and only allowed five in total in the semi-finals and the finals as they easily captured the first place trophy.
Following up their run-rule victory in the semi-finals over an always competitive Texas Twelve Silver 2022 club, the Banditos made short work of the Premier OKC Athletics-Dion in the finals, by a score of 12-2, in a game shortened to five innings by the PG run-rule.
Riding their dominant pitching staff and their rock solid defense, this 16U edition of the Banditos Scout team appears to be the consummate winner. They have no heroes. They play the game the right way and they play together. More than anything, the Banditos are tremendous competitors and appear to be great sportsmen. They recognize their teammates accomplishments and give credit to their opponents when the opposition makes a solid play or gets a big hit. Theirs is a story of a true team. Although numerous individuals had noticeably outstanding performances throughout their run to the championship, no one player was more important than any other.
The OKC Athletics also had a fine tournament. They are a gritty bunch and are fundamentally sound. They battled throughout the tournament, especially when the weather altered the schedule and forced them to stretch their pitching staff. They never quit and never hung their heads in the final game, even when the score got a bit out of hand. They are a well-coached team and certainly deserved to be in the championship contest. They earned that.
This day and this tournament, however, belonged to the very talented Banditos Scout Team 16U.  They are gifted individually and collectively. They rarely make mistakes and seemingly never make the same mistake twice, which is a small example of their drive towards perfection and their ability to take coaching. Each player knows their role and they play that role well. They show a collective maturity rarely seen at this level. That is a credit to their parents and their coaches. The future looks bright for this fine group of players.
Congratulations to the Perfect Game 2020 WWBA 16U South Champions, the Banditos Scout Team 16U.
MVPitcher – JC Gutierrez – Banditos Scout Team 16U
MVP – Xavier Perez – Banditos Scout Team 16U